Helping businesses prevent pollution from spills
Drain protection should be considered in your spill response plan as sites are designed for liquids to flow into drains. Usually this is ideal for removing rain water however if a spill occurs, hazardous liquids entering a drain can have catastrophic results. Drain protection devices provide a critical solution which can be deployed quickly to reduce the spread of liquid spills and the spread of pollution. Drain protection devices are available for all drains and range from simple drain covers to automated valves which can be deployed from miles away.
Understanding Drains
What are the different types of drain?
To understand your drains on site you need to investigate where they lead to and the liquids they can transport. There are 2 types of drain in the UK, surface water drains and foul water drains.
Surface water drains are designed to collect rain water run off, from gutters, roads and fields, preventing flooding. These drains collect uncontaminated water which is transported back to rivers, lakes and other natural bodies of water.
Foul water drains carry waste water and sewage to water treatment plants. These drains should be used for all contaminated water such as toilets, washing machines, sinks, manufacturing processes and contaminated water.
You need to understand your drains and where they lead to, to ensure your water is going into the correct drain. You also need to consider both internal and external drains. Many manufacturing premises and production lines have internal gully style channel drains for waste so internal drain covers and valves should also be considered in case of emergency.
It is recommended that drains are painted or signposted so everyone understands the different types of drains and where they lead to, including contractors and emergency services. The widely recognised signposting is blue for surface water and red for foul water drains.
For more information regarding pollution please read our guide to Pollution and Spills
Do you have a Drain Map?
All businesses should have a drainage map as part of your health and safety and risk assessment processes. Drain maps highlight where pipes, valves, manhole covers and drains are situated, the flow of liquid through them, and the types of liquid that may be present in the drains. Drain maps provide businesses and third parties the underground visual map of how a spill could quickly spread, causing wide spread pollution. In the event of an emergency, the fire brigade and environment agency may request your drainage map so they can shut of any drains preventing any fire water from causing pollution. Your drain map should also highlight the recognised colours of red for foul water and blue for surface water.
If you need help creating or maintaining a drain map for your site Spillcraft can help. Call our team to discuss your drainage requirements.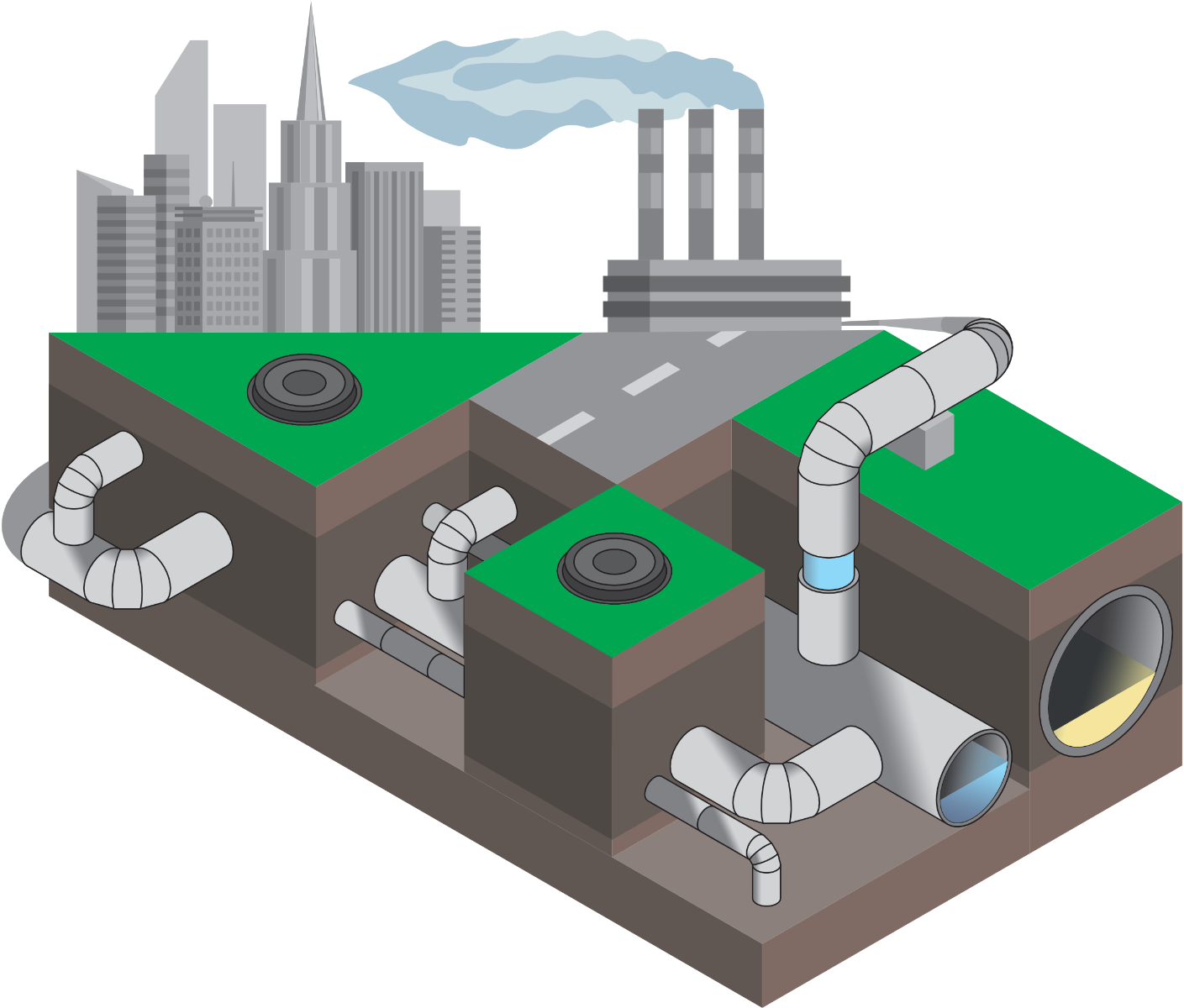 What drain protection do I need?
All businesses have a responsibility to protect the environment, so its essential you have your drains protected. You need to understand where the drains are on site, and where they lead to, to ensure you have adequate drain protection. It is essential to carry out a thorough risk assessment to identify areas drain protection devices could be utilised. You also need to consider a contingency plan and possibly the installation of isolating valves to offer the best protection.
Spillcraft offer a free spill survey which highlights any areas of concern for you to focus on. We can also make recommendations for drain protection equipment. We work in partnership with a recognised professional drain consultant to ensure all options are explored, keeping you compliant as a result. They can visit alongside our team to make recommendations for your drainage map as well as any valves or drain protection systems that would benefit you.
Having a successful emergency plan in place will protect people and the environment as well as saving your businesses reputation and heavy fines.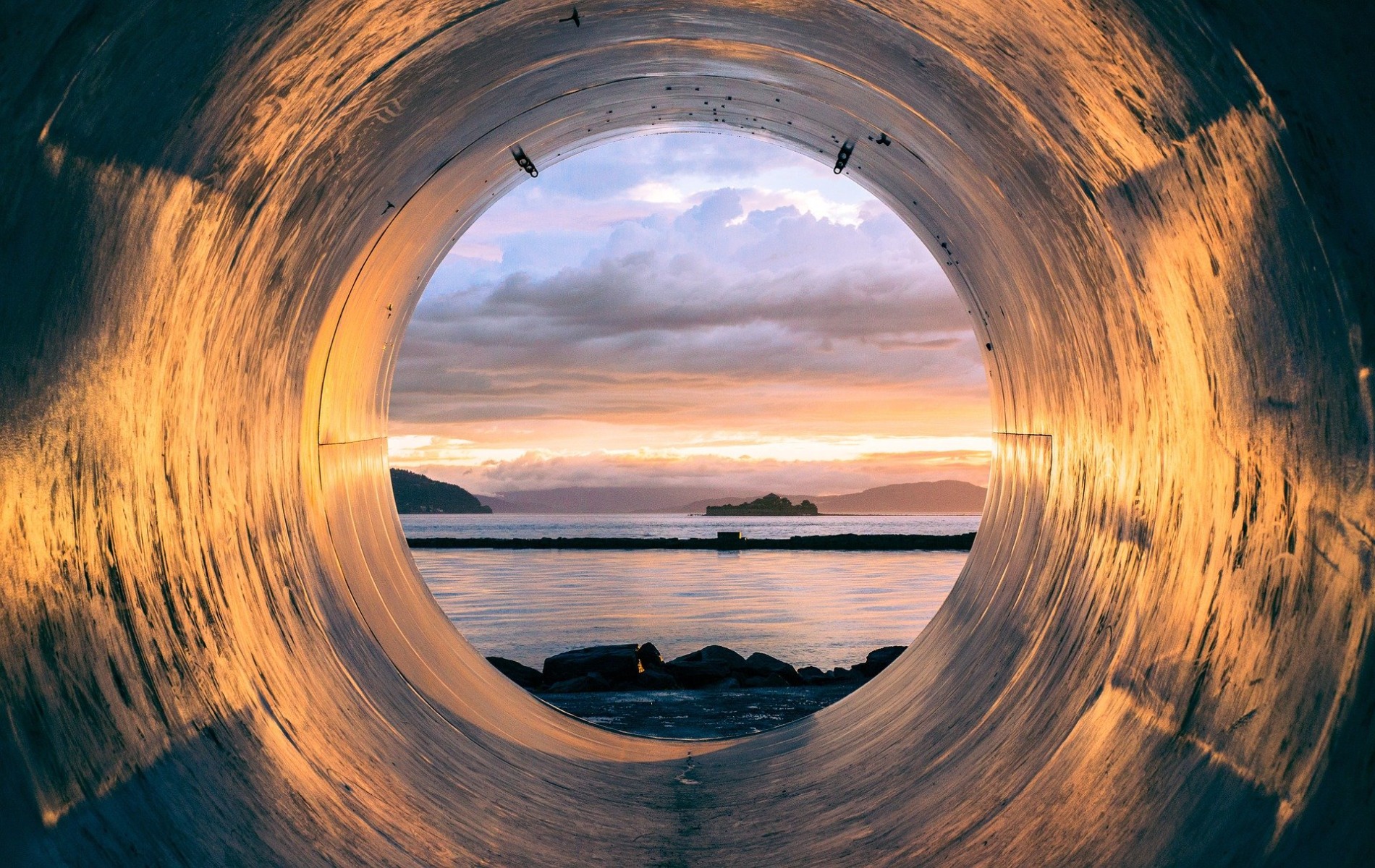 The cost of spills entering the drainage system
An accidental spill entering the drains on site can be costly to your business. As well as fines for causing pollution there are lots of other costs to consider.
If the Fire service, environment agency or health and safety executive attend for investigation, they may charge for their time and input. You may also require a specialist cleaning contractor to minimise the spread of the pollution, which can be extremely expensive.
You also need to consider indirect costs, which may affect your business for a longer period of time such as reputational damage, interruption to working practices, sick pay for injured staff members, repairs and replacement of damaged equipment or stock. It is also likely your insurance premiums will increase as a result.
The total cost of not managing a spill correctly could be quite substantial. With the correct approach to drain protection and spill control, a robust plan and reliable equipment you can manage a spill responsibly, keeping your people and the environment protected
How do I protect drains?
Once you understand your on site drains you an begin to research which solution would suit you best for you. Depending on a number of factors such as the liquids used, the drain map, whether you are on a manned or un-manned site will all impact on the best solution for your drain protection.
Drain covers are ideal to have as emergency response equipment. External Drain covers should be placed in weatherproof holders near to your drains, they can be quickly deployed in the event of an emergency spill. Internal drain covers also benefit from being stored in drain cover holders, to ensure they are easy to access and remain in good condition. Available in a wide range of options all with various benefits, available for square and rectangular drains as well as aco or gully type drains. Clay drain covers provide a cost effective, reliable solution for many square or rectangular drain designs. Also available in magnetic drain covers, mechanical drain covers which are in situ and a lever turned to deploy. There are a range of plastic, polyurethane and neoprene drain covers which are resistant to a broad range of chemicals and can be cleaned and re-used, these are available for channel drain covers or aco drains as well as the square and rectangular standard drains, the possibilities are endless.
As well as responsive solutions there are also proactive solutions to drain protection such as installing valves and monitoring devices into your drains. Drain valves and monitoring devices allow continuous monitoring of your drains from a simple dashboard. Many available with connectivity to mobile apps you can check on drains on site at the click of a button. You can also be alerted to issues remotely and active or de-activate valves to prevent the spread of pollution. Offering an ideal solution for many businesses they also provide a more efficient response on larger sites where spills may go unnoticed or applying a drain cover a mile away could be in vain, in the time it takes you to get there.
Do I need to maintain my drains?
A blocked drain isn't effective so regular maintenance must be carried out. Visual checks that your drains are carrying water ensures there are no blockages.
Depending on the location of your drains you may want to consider a drain guard, drain grate or gully cover to prevent leaves and other items being caught in your drains, causing blockages. Even simple solutions like these can prevent further damage in future.
How do I know if an underground drain is damaged? Drains are built to last however they often encounter blockages or cracks over the years. Regular visual maintenance should be carried out and recorded to ensure your drains are working correctly. External contractors can also be used to monitor your drains.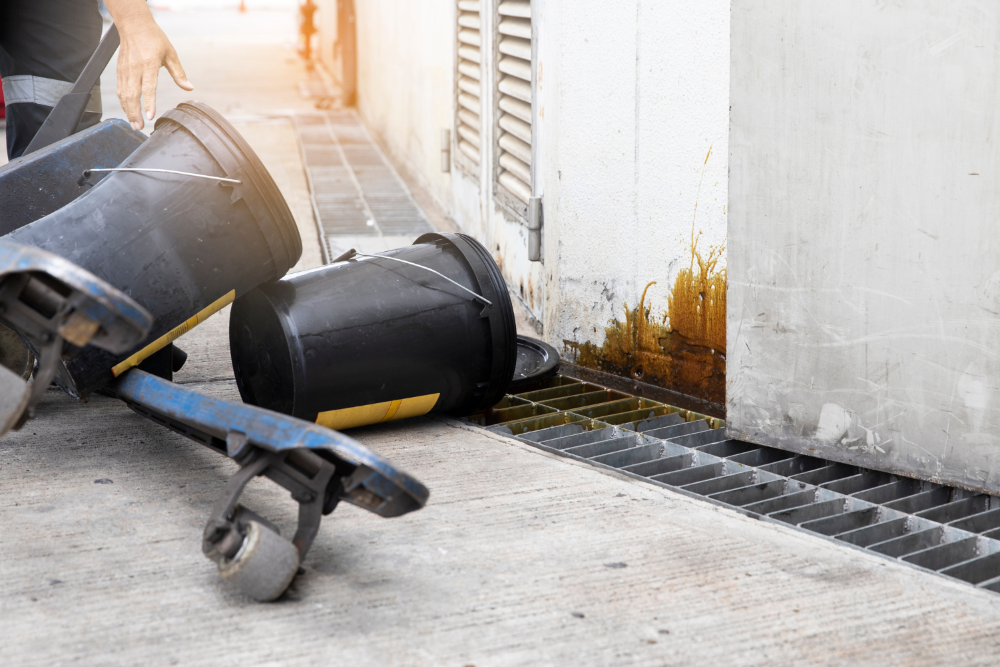 Useful links and further reading for drain protection
Pollution Prevention guidance from Gov.uk on correct use of drains
CIRIA is the construction industry research and information association an independent, not for profit organisation offering solutions from research and driving performance improvements. They have published guidance on prevention of water pollution : CIRIA736
How to report an incident to the environment agency
HM Government published guidelines for Building Regulations on Drainage and waste disposal
We appreciate Health and Safety officers have a lot of responsibilities in the workplace and time is often limited. Spillcraft are here to help, whether you are looking for advice on drainage, spills, PPE, training or a managed replenishment service, we are available to help take some of the pressure away. If you are unsure where to start please get in touch and we can talk you through how to remain compliant.
Call: 01606 352 679 | Email: [email protected]
Spill Training | Spill Surveys | Managed Spill Services | Spill Equipment