Site Survey
Our site survey will identify your 'at risk' spill areas and provide best practice solutions to keep your business compliant and safe.
The necessity of spill control
It is a legal obligation that a business handling or storing hazardous liquids, has a spill response plan in place to protect their workforce and the environment.
Not having a spill management solution in place can have serious consequences for a business and lead to issues, including:
Accidents and injuries to employees

Leading to loss of production and / or additional resources needed

Damage to equipment and property

Leading to loss of production and increase costs

Irreversible damage to wildlife and environment

If spills are not contained and enter the soil or a waterway

Reputation damage and negative publicity

Possible loss of custom and brand damage

Company losses, stakeholder confidence, time and money

Revenue loss and additional resource to elevate negative outcome

Loss of credibility with customers and suppliers

Profits hit and hampered business partnerships

Increased insurance premiums

Heavy fines and potentially prison if prosecuted
For these reasons alone it is critical you have a spill control process in place.
Spillcraft offer a free of charge site survey to assess and identify your 'at risk' spill areas and provide solutions to ensure your business is compliant to current legislation, whilst protecting your workforce and the environment.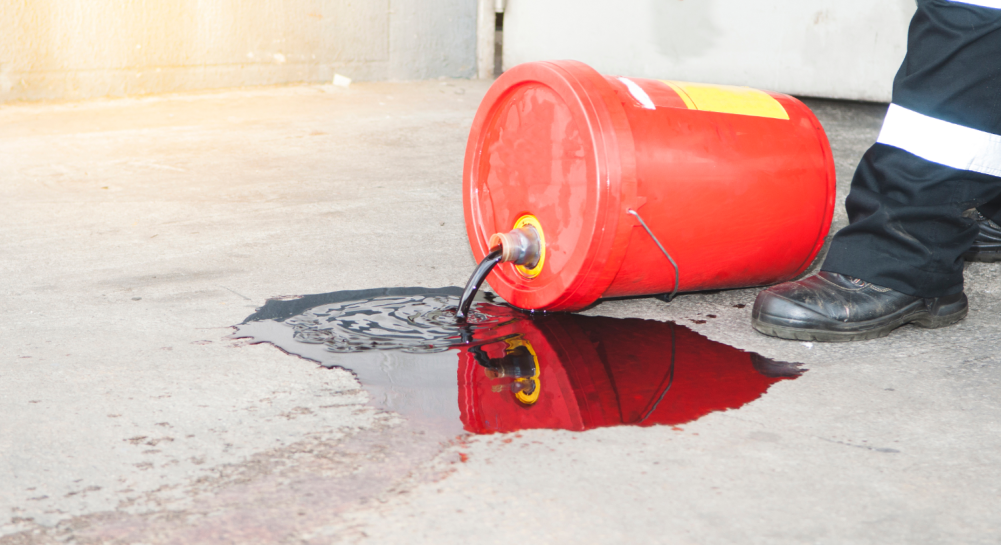 Supporting you with our complete spill management solution
We can offer an onsite compliance review and site survey by our experienced spill control advisors.
Our advisors will assess your current situation and provide a comprehensive report detailing recommendations of best practice and spill equipment required. Having the correct spill management and spill control in place gives you confidence, so should you get an HSE or environmental inspection, you've got a documented record on site.
Other benefits include, safety of your employees, protecting the environment, positive business reputation, no fines or prosecution. As well as saving yourself a lot of time, hassle and money by having everything ready for when an emergency spill occurs.
How do I know if I need a site survey?
Is your spill control plan 100% compliant?
Have you analysed your site drainage maps?
Are you using the correct storage and equipment for your liquids?
Has your equipment been correctly specified by an expert?
If you are unsure if your current spill response plan is keeping you compliant, try our free compliance review online. It takes around 4 minutes and gives you a comprehensive report detailing 7 areas you should consider for spill control and suggestions for any improvements you could make. Click here to try our "Are you prepared for spills" review
Assess

We visit your site and conduct a full onsite assessment. We'll analyse and highlight any of the potential risk points apparent on site.

Report

We report on and score key areas that pose a risk to workers or the environment. We advise solutions and associated costs.

Implement

We send out professionals to set everything up and implement the agreed solutions. Visit intervals will also be agreed.

Provide

You'll receive a spill risk assessment report displaying the changes that have been made, and the issues that have been resolved.
Why Choose Spillcraft?
Compliant & Safe

Regularly checked spill kits to ensure equipment is fit for purpose

Documentation

You receive regular documented and detailed usage report

Investments

Spill kit maintenance services maximise your investments

Convenient

The service will also save you time, hassle and money
The bespoke spill management solution that Spillcraft came up with was excellent, including the training they gave us; I'd have no hesitation in recommending them

Aerospace Manufacturer

Our site looks so much better. We are more than happy with the service you are providing, in fact, it's been exceptional!

Aerospace Manufacturer

Friendly staff, good communication. Can be trusted to move safely through high-risk areas. Very safety-conscious staff who provide good communication; a pleasure to deal with.

Chemical Manufacturer
Book A Free Spill Survey
We can help you manage your spill control effectively
Our experience in the spill control industry allows us to provide you with the best and most efficient methods of spill management, ensuring your company remains safe and compliant.
Complete our contact form and a member of our team will be in contact shortly.
You May Also be Interested In: