Top 10 tips for choosing the right spill kit
Choosing the right emergency spill kit is essential, but also where to locate each spill kit is critical too. Before you decide upon your emergency spill kits, think about your site, its location, the liquids you handle and working operations, to ensure you make the right choice.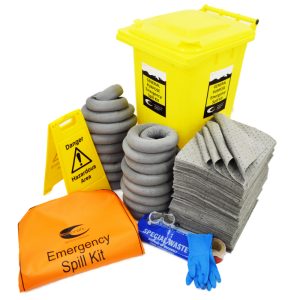 Use our top 10 tips to make sure you select the correct spill kit for your needs.
1. What is your site like?
Check for drains and other outlets, and how the site orientates towards these drains and outlets. If there are drains, you'll need to ensure the correct drain protection covers are gained and included in the spill kit.
2.Where would be the best location for the spill kit?
A spill kit needs to be easily accessible if there's an emergency spill.
3.What type of liquids do you have on site?
There are general-purpose kits, hydrophobic kits and some suitable for dealing with chemical spills. Having the correct spill kit is essential.
4. What volume of liquid could be spilt?
Bigger volumes will require several or bigger spill kits
5. Would it be beneficial and safer to have one big spill kit or several smaller ones?
Large spills can often be dealt with better, by using 3 or 4 smaller kits, positioned strategically, rather than 1 or 2 large ones, because this gives you the ability to attack the spill from different angles, at the same time.
6. What PPE do you need?
If you're including PPE within the kit, make sure it's suitable and safe to use with the liquids you could spill.
7. What are the best spill products needed for your spill kit?
Make sure you have the correct mix of spill materials, Eg: booms, mats or pillows.
8. Are the liquids you use hazardous?
If so, you will need hazardous waste disposal bags to ensure safe disposal. Ensure you have sufficient quantities in your kits
9. Do you have a spill reporting process in place?
After a spill, you will need to make a report of what happened and the response. Ensure there are robust auditing and reporting systems in place. Spill kits are like fire extinguishers and when you need them, they need to be fit for purpose, so replenish used spill kit products regularly.
10. Do you have the correctly trained staff, to react and deal with a spill?
Staff need to understand the importance and urgency of managing a spill as well as having an understanding the the equipment available to them. Training your staff in spill response will give them the confidence to manage any spill emergency effectively.
A spill incident can have a devastating impact on your workforce and business. If you get it wrong, as well as the possibility of injuries to your workforce and environmental damage, you could face huge fines, receive bad publicity and even a jail sentence, so it is not worth the risk.
Our expertise is spill management. Our robust spill management solutions will keep you compliant and safe, as well as save you time, hassle and money. We're always ready to support you and provide a
free site spill survey
, to identify 'at-risk' areas and provide solutions to suit your needs.
To book your free site survey contact us now, o
r contact our spill team T: 01606 352 679 or E: 
[email protected]