Spill Response Training
Would you and your team know what to do when faced with a spill emergency? Spill Training empowers your workforce to manage an emergency spill situation protecting people and the environment
Spill Essential Training Session
Essential training provides an overview of the steps that should be followed for any spill emergency. This training session is ideal for employees of all levels, providing essential knowledge to ensure you are prepared for spills. We appreciate everyone is busy and often training can be overlooked but spill response training not only benefits your business. Training empowers your employees to manage an emergency situation successfully protecting your people, the environment and your business from harm.
Our engaging training session lasts approximately 1 hour allowing you to schedule into the busiest of shifts. Within the session we discuss the importance of spill control and the impact it could have if you get it wrong.  Our team will explain and demonstrate how to manage a spill incident, from containment to cleaning. We will demonstrate how use the contents of a spill kit, as well as practical experience of managing a spill with a water simulation.
This essential training is ideal for any member of staff to ensure they can manage a spill quickly and effectively. Provided in small groups of upto 12 delegates there are opportunities for questions. The session is designed to understand the scenarios you may be faced with, empowering your staff to have the confidence to follow the 8 steps to spill response in any emergency situation.
Delegates will receive a training booklet and a certificate of attendance.
Delegates Included: 12
Course Length: Approx 1 hour.
There are 2 other training courses available which may be suitable.
Spill Response Pro Training and Spill Response Advance Training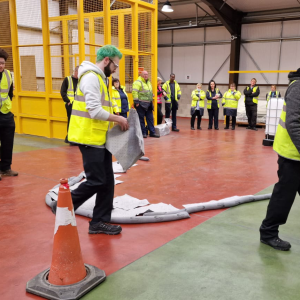 Why Choose Spillcraft?
Compliant & Safe

Regularly checked spill kits to ensure equipment is fit for purpose

Documentation

You receive regular documented and detailed usage report

Investments

Spill kit maintenance services maximise your investments

Convenient

The service will also save you time, hassle and money
The bespoke spill management solution that Spillcraft came up with was excellent, including the training they gave us; I'd have no hesitation in recommending them

Aerospace Manufacturer

Our site looks so much better. We are more than happy with the service you are providing, in fact, it's been exceptional!

Aerospace Manufacturer

Friendly staff, good communication. Can be trusted to move safely through high-risk areas. Very safety-conscious staff who provide good communication; a pleasure to deal with.

Chemical Manufacturer
Spill Training Enquiry
Our experience in the spill control industry allows us to provide you with the best and most efficient methods of spill management, ensuring your company remains safe and compliant.
Complete our contact form and a member of our team will be in contact shortly.
You May Also be Interested In:
×
Book Spill Essential Training Session
Interest in our Spill Essential Training Session? Use the training booking form below to book your training course