Top 10 Spill Kit FAQs
Audits often raise the need for spill equipment, but what does that mean? Our Top 10 Spill kit frequently asked questions will help get you started. A simple and easy to understand guide to what a spill kit is and why you may need one.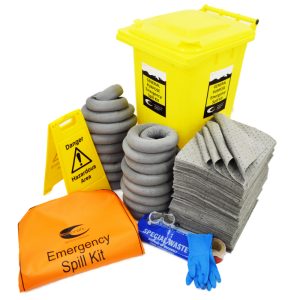 What is a spill kit?
A spill kit is your emergency response equipment if a spill occurs, it contains everything you will need to control, contain and clean a spill.  You should have them available in case of emergency.
Do I need a spill kit?
If you have liquids on site, yes you do.
Where should spill kits be located? 
Kits should be accessible. They can be located inside or outside, near to potential spill risks
What should be in a spill kits? 
Contents should include items to contain, control and clean up a spill. This most commonly includes absorbents such as socks and mats, warning equipment such as signage and tape, and hazardous waste bags. You can include other items specific for your needs such as drain covers if required
What are the different types of spill kit?
There are 3 main types. General Purpose for non-aggressive fluids, Chemical for hazardous fluids and Oil. You must make sure you have the correct spill kit for the fluid you use. There are also
specialised spill kits
available including paint kits, battery acid kits, marine kits, mercury kits, body fluids and many more.
What size spill kit do I need? 
This varies on the potential risks. You need to ensure you have enough equipment to contain your largest potential spill
What colour are spill kits? 
Kits can vary in size, shape and colour but should be bright and easy to identify, with clear labels. The absorbents in the kits are colour coded: Yellow for Hazardous/Chemical. White for Oils and Fuels and Grey for general purpose.
Does my spill kits need to be checked? 
Yes, just like your fire extinguisher they should be checked regularly, recorded and refilled when items are used to ensure you are prepared for future emergencies. Your emergency kits should be audit tagged, to highlight they have been checked and to ensure the kit remains un-used. It the audit tag is broken, some items may have been used.
Do I need to be trained to use a spill kit?
Although it isn't mandatory
spill training
is recommended to ensure you use your equipment effectively and protect yourself, people and the environment.
Can a spill be washed down a drain?
NO! This can have catastrophic damage on the environment. You should prevent spills from entering drains using drain covers and clean it using your spillage equipment.
If you have never needed an emergency response kit before its understandable you may not know the options available. Our team are on hand to guide you through your options. We can arrange a free
spill survey
to walk around your site, highlighting potential risks with you. We want to make sure our customers are doing everything they can to protect people and the environment, so if you are looking for advice on products, training or a managed service, we can help.
Call: 01606 352 679  | Email: [email protected]